Decided to do a quick overnighter close to home at Cottonwood Lake and test some gear.
Ok, so maybe…..just maybe, I took the fat tires off a wee bit soon…. Yes, I know I had the option of running 29plus or fat for this trip. But the trail that would get me to the same place was mush and unridable late in the day even with fatties. So the road approach it was. The riding to get there was fine, the lake itself was an entirely different case…
Cold weather bikepacking is so much… bulkier. Hence the giant drybag on the rear rack. Don't normally run a rack, but this was an experimental night for the new hammock setup. Along with the the 3season down bag, I also took a thermarest/bivy combo in case I had to bail out of the hammock at 2am and go to ground…
The front end however, is basically the summer setup. Smaller bar bag than last year, and with just bottles on the forks.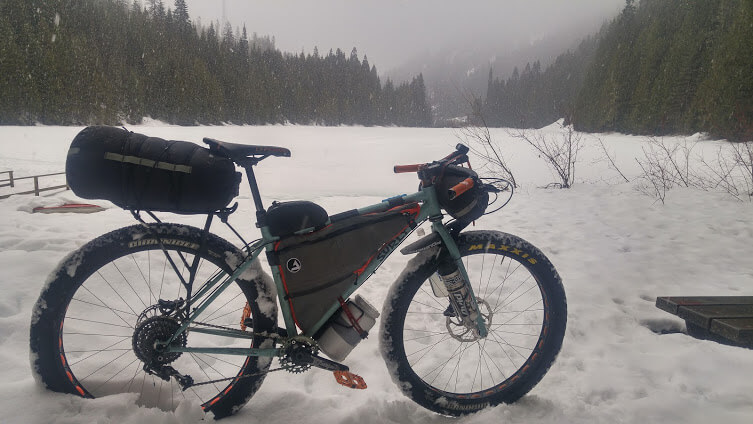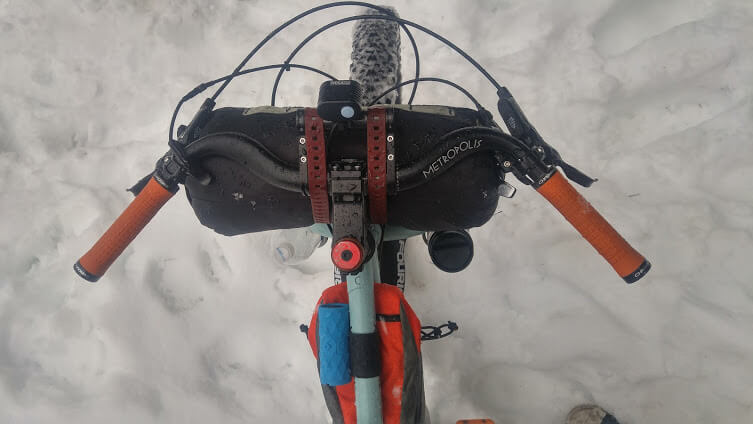 First time actually using a rack, but works well for winter with that larger drybag. As you can see by all the shiney bits, I….ummm….modified it a wee bit. Since I'll never run side panniers on it, I sorta took a grinder to the rack and cut about a third of its original weight off. Much better. just need to finish smoothing everything out and paint….
Cheated a little, and used the open shelter for experimentation….
New hammock/underquilt combo. With a space blanket in between, for that little bit extra. Why not, right?? By sleeping in all the clothes, down jacket, and minus 7 bag, I was actually pretty cosy, and slept great. It dipped down to about minus 3, so now I have a reference point to work from for future trips. And decide from there whether to use the hammock (which is more comfy) or the bivy (and sleep on the ground like an animal).