I'd love to have a sweet custom framebag to adorn my bike. I truly would. With the perfect fit, zippers in all the right places, internal dividers and all. BUT… Right now due to the sad financial reality, I'm stuck riding the fatbike for the rest of this years bikepacking season (which really isn't that bad). Enter THE $5 FRAMEBAG!
This thing was really only supposed to be a proof-of-concept sorta experiment. And if truth be told, the actual cost was $5 for the materials, and a 6er of Nelson Brewing Company's Facepant, but really, the beer would have been consumed, bag or not… In my case, two rolls of duct tape; one orange and one black (and yes, I already had them sitting around anyways)
The process
Simply wrap the frame with the orange duct tape, inside out. It's slightly more challenging than first thought. But the idea is that the main triangle is covered in tape, sticky side out. Don't worry to much if there's gaps. Just start just behind the head tube and wrap in vertical strips and work back. Then use a few short horizontal strips connecting the now-covered triangle to the seat tube. Ta-da, you have now just made your bike into a fantastic debris magnet! Now repeat the process with the black tape (or whatever colour you want the bag to be), sticky side down. Naturally, you'll have frame bits and cables to work around. And paying attention to get everything neat and tidy will result in a better end result. But seriously, the thing is a duct tape bag that cost basically nothing but time! So I didn't stress out too much over it. Now that you have a created a fantastic work of duct-tape art, you may notice that there is now way to load the thing. I simply cut a slit in one side, just below the top tube. And created a big 'ol flap with more tape to cover the opening. I'll let you decide how to keep the flap shut. At first I used a few strips of duct tape to keep the flap closed, replacing them whenever they weren't tacky anymore. But eventually just used two voile straps to keep 'er shut.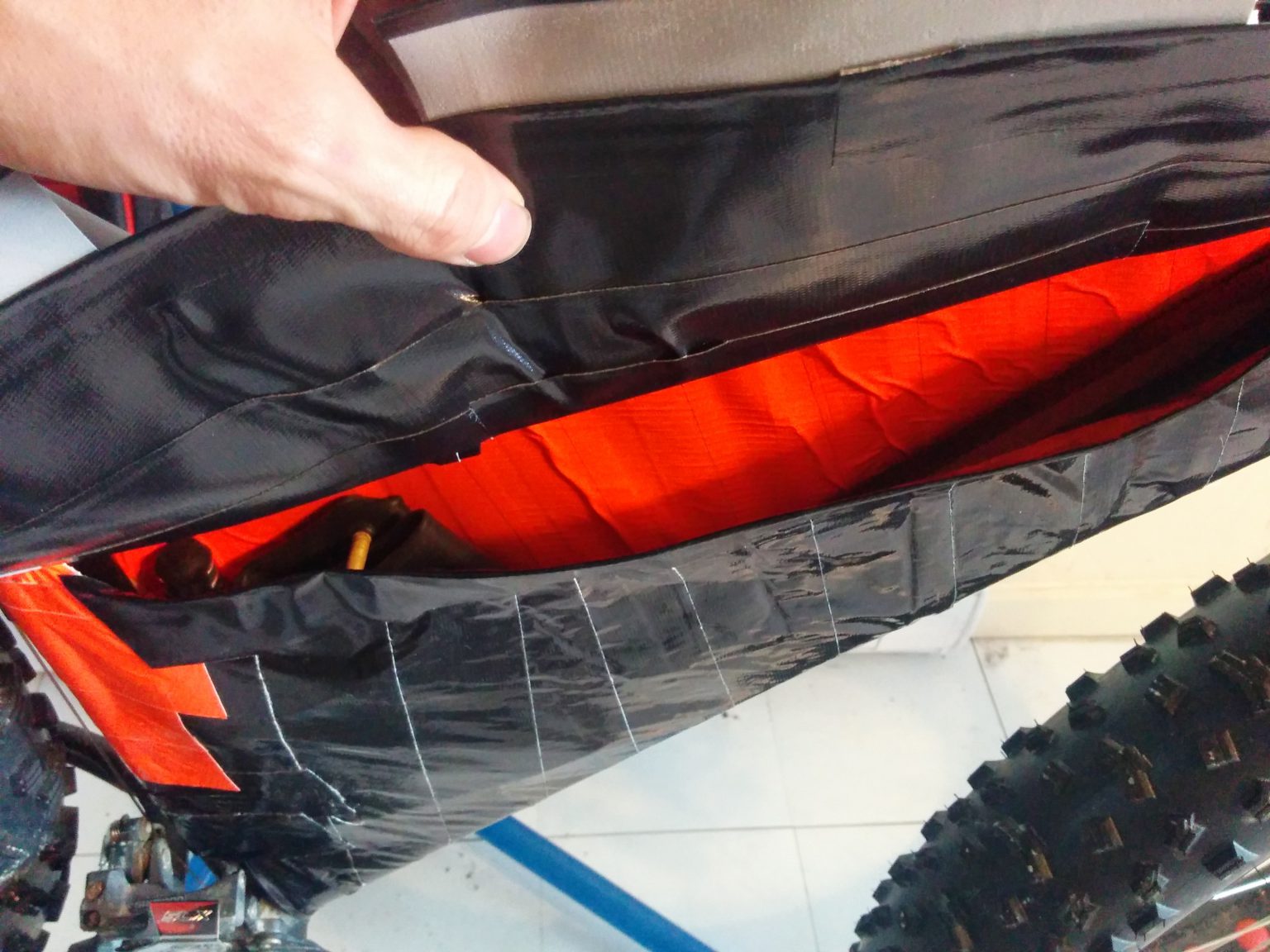 Conclusion
And I gotta say, for the low expectations and investment, the bag has way passed expectations. Although there are gaps wherever the tape wrapped a weird frame bit, the 'fabric' is waterproof. And easily repaired. And when you're done with it, you just cut it off. And since the first layer was inside out, there's no tape residue to deal with!
Is it an awesome, cheap, (somewhat cheezy) alternative to a more expensive custom framebag. Yup. But am I going to invest in a proper bag once I finally get the frame that I'll be building the ultimate bikepacking rig around? You better believe I am!